jan
insurrection who's who
- fbi knew of do or die marchers on capitol at least day before #trumpwednesday-
deutsche bank
emerges as main investor in trump- how will eu censor these disgusting financiers? warp speed = one third of vaccine shipped used as at 1/12;
vaccine ai
had 6 months to map- which nations logistics cared most/least for their peoples?
valuetrue.com thanks 1billiongirls.com questioning washington dc, glasgow and any livesmatter future capital- do you know anything about sustaining our lives - legend as well as nature and machines we seek to mediate 8 human populations -each nearly a billion strong 1billiongirls.com demands freedom of voice/data for younger poorest women not just older richest men as artificial intel platforms increasingly govern what happens real time www

fall 2020.
american parents last chance to tell public servants to stop lying- let me explain with the case of pre-computing maths- q1 why were americans worst at teaching this? 2 how was computing designed by best maths guys? 3 what purposes could computers humanise- long version read biography of von neumann by macrae, short version here.
38th annual survey of 2025report.com first published 1984 with the economist as dialogue on how to prevent big brother generation: survey of saying 7 nos to trumpists- can you improve on actioning these 7 wonders
1 prosecute those who brought life threatening weapons to the capitol building on #trumpwwednesday
2 #trumpwednesday -SMARTER MEDIA SUGGESTION: dont waste FBIntel time on many others - suggestion prosecute 20 ordinary people and 20 of the top dc people who invited them to walk trumps talk.
#3 recommendation borrow from new york strong: from jan 21 demand one human more loving consequence from every day the capital convenes- on any day this is not achieved reduce size of each party's representation by 1%.
4 issue an update newsletter on ending covid every week- make it truer and faster every week- if 300 million people cant get better at ending covid each week what future usa?

MIDDLE AMERICA:

Antigua & Barbuda, Bahamas, Barbados, Belize, Costa Rica, Cuba, Dominica, Dominican Republic, El Salvador, Grenada, Guatemala, Haiti, Honduras,

Jamaica

, Nicaragua, Panama, Saint Kitts & Nevis, Saint Lucia, Saint Vincent & the Grenadines, Trinidad & Tobago

SOUTH AMERICA: Argentina, Bolivia, Brazil, Chile, Colombia, Ecuador, Guyana, Paraguay, Peru, Suriname, Uruguay, Venezuela.... associate webs economistlearning.com economistbank.com economisthealth.com
Is SOROS last billionaire standing for american youth's dream to unite sdg generation locally & globally

---

chris.macrae@yahoo.co.uk may 2020 (bicycling distance from national institute of health bethesda md usa) writes:




since 1960 most of the world's population mapping

sdg

development - eg asians as over 60% of humans have traded round a japanese translation of global system- compounding solutions americans like

deming

and

borlaug

open sourced -more than any other single system dynamic friends at

journalistsforhumanity

have been able to map-

brookings update 2020- 5/15 how taipei, seoul, hk, saved their peoples, and hanoi




back to middle of 20th c-perhaps it shouldn't be that much of a surprise that it took one of the 2 island nations that most colonised borders up to world war 2 to culturally rollback a higher purpose for uniting peoples
Norman Macrae, having survived teenage navigation of RAF planes bomber command world war 2 over modern-day myanmar/bangladesh, joined The Economist in 1949, and retired as the deputy editor of what he called "the world's favourite viewspaper" in 1988. During that time, he wrote extensively on the future of society and the impact of technology. Norman foresaw species sustainability as being determined by post-colonial and virtual mapmaking- 5G 4G 3G 2G 1G 0G if 60s tech could race to moon and Moore alumni promised 100 times more machine intel every decade TO 2025, let's end poverty mediating/educating a world of loving each others' children- so that wherever the next millennials girl is born she enjoys great chance to thrive.

Soon Norman was celebrating his wartime enemy's rising engineers and win-win sme supply chains across far east and very concerned that tod down constitutions english speaking nations led by political bureaucrats wasn't fit for entrepreneurial revolution-he co-opted a young romani prodi to translate Economist 1976 ER survey into multilingual formats

Amongst some of his more outlandish claims: that governments would not only reverse the nationalisation process and denationalise formerly private industries, but would also sell industries and services that had been state operated for so long that it seemed impossible that they could be run by private companies. A pioneer before the pioneers, Macrae imagined privatised and competing telecommunications and utility companies improving service levels and reducing prices.

When others saw arms build-ups as heralding World War III, Macrae predicted the fall of the Berlin Wall by the end of the 1980's.

The Norman Macrae Archive serves as an on-line library, hosting a growing collection of Macrae articles, newspaper columns and highlights from his books. We hope that you find the articles thought provoking and zoom, twitter or question us - norman's son chris.macrae@yahoo.co.uk





best wishes

1972 ecconomist survey of 1972-2012- WILL AMERICANS AND EUR-CITIZENS EVER BE FREED ENTREPRENEURIALLY FROM PAPER CURRENCIES THE ONLY ZERO-SUM TRADE MONOPLY IN A WORLD WHERE ACTIONABLE KNOWHOW MULTIPLIES VALUE UNLIKECONSUMING UP THING
.....


help linkin sdg coalition maps-
peru
...millennials rewind usa in 1999 afore 3G mobilisation decade- sample of
cluetrain
signees
| Saving the Internet—and all the commons it makes

The ninth and worst enclosure is

the one inside our heads

. Because, if we think the Internet is something we use by grace of Apple, Amazon, Facebook, Google and "providers" such as phone and cable companies, we're only helping all those companies contain the Internet's usefulness inside their walled gardens.

Not

understanding the Internet can result in problems similar to ones

we suffer by not understanding common pool resources such as the atmosphere, the oceans, and the Earth itself.

chris.macrae@yahoo.co.uk

,

normanmacrae.net quarters 5 and 6 of EconomistDiary 2018-1843 - journalists valuing mediation of goal 1 end poverty

,

A global databank for brandchartering the interconnecting aims of CLO, CBO and CEO in organising learning, branding and strategy

- "I'd like to ask : Isn't it time that branders, strategists, and learning systems people believed and acted on their marketing promise as much as they want end-consumers to trust it? I am editing a millennial issue of a journal where we are urgently inviting world leading influencers of strategy, brand or learning to write 6 pages on future organisational frameworks in such simple language that every reader connects to the big idea whatever their home area of expertise"

.
.
.
.
.
.
.
.
.
.

Friday, November 30, 2018
11/17/20 bezos announces first grants in one of world's largest climate funds
Last year Rohit Prasad was ranked 9 and colleague, Tony Reid, was ranked 10 in Fast Company's 100 Most Creative People in Business.

BusinessToday.In
| July 26, 2018 | Updated 12:25 IST -FROM BUSINESSTODAY.IN
Amazon's Alexa has taken the world, including India, by storm since its release in 2014. From commanding it to play music to control your smart appliances, Alexa is the next gen technology that is poised to make one's life simpler. While the fanfare for Alexa is quite obvious and noticeable, did you know that Alexa has a very strong Indian connection? Alexa was created by Rohit Prasad, along with colleague Tony Reid.
Prasad has been serving as the Vice President and Head Scientist in Alexa Artificial Intelligence since May 2016. He is at the helm of research and development in speech recognition, natural language understanding, and machine learning technologies aimed at improving customers' experiences with Echo devices, powered by Alexa.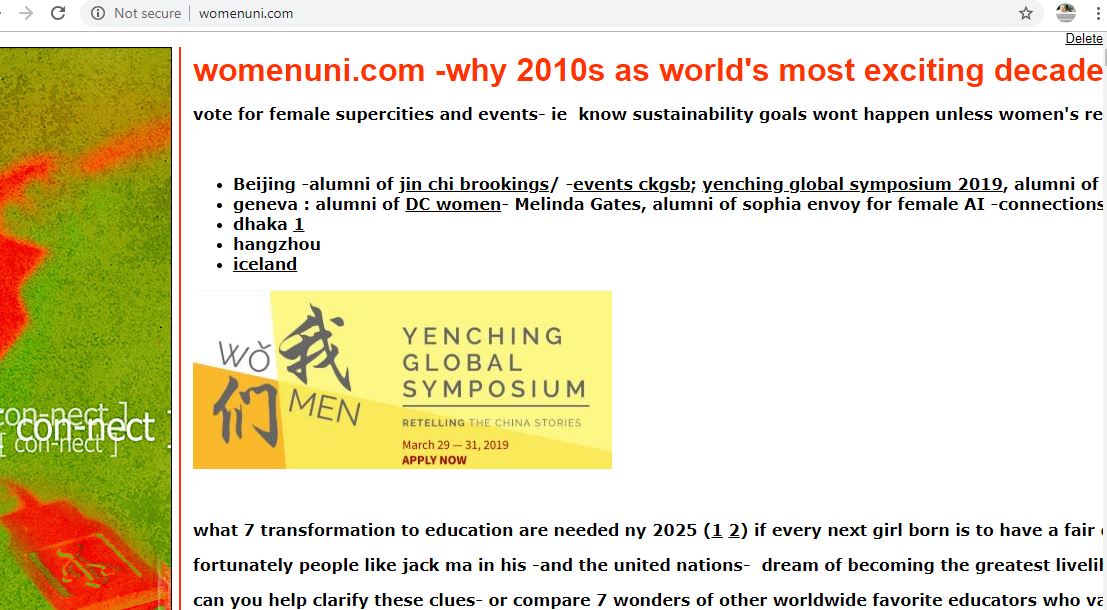 Wednesday, November 14, 2018

yesterday's announcement by amazon put the cat among the pigeons so to speak- if new york and dc can become cities sustainability youth value in the top 20 suoercities= what use is USA as far as mother earth or the species human is concerned? here's is one of dc's first dialgues in the post amazon hq2 world -
U.S. cities in pursuit of viable futures: Taking on the Sustainable Development Goals
Thursday, November 29, 2018, 2:00 - 3:30 p.m.
The Brookings Institution, Saul/Zilkha Room, 1775 Massachusetts Avenue, N.W. Washington, DC 20036
With political divisions on the rise and global cooperation imperiled, city officials worldwide are stepping up to lead, solving local problems while sharing solutions and innovations across borders. Making cities such as New York, Pittsburgh, and Los Angeles inclusive, safe, and sustainable is vital to the future of the United States--and the globe. Driven by the need to act locally while thinking globally, a growing number of metro areas are adapting the Sustainable Development Goals (SDGs) as a blueprint for progress.

On November 29, the Global Economy and Development program at Brookings and Carnegie Mellon University's Heinz College of Information Systems and Public Policy will co-host an event with city officials and development experts to explore the value proposition of the SDGs for U.S. cities. Experts will explore how the 17 SDGs can help cities tackle local economic, political, and environmental challenges vital to the health and wellbeing of their residents. They will debate how U.S. cities can lead and reach the global goals by 2030.

New York City and Los Angeles are publicly promoting and implementing the SDGs, while cities such as Pittsburgh are leading on innovation and sustainability but have not yet connected their strategies to the SDGs. Panelists will also explore how technology can help integrate the SDGs into city strategies and accelerate development gains.

Following the discussion, panelists will take questions from the audience.
Introduction and moderator

Anthony F. Pipa

, Senior Fellow, Global Economy and Development, The Brookings Institution | @anthonypipa

Penny Abeywardena

, Commissioner for International Affairs, Mayor's Office, City of New York | @PAbeywardena

Grant Ervin

, Chief Resilience Officer, City of Pittsburgh | @ervin_grant

Nina Hachigian

, Deputy Mayor, City of Los Angeles | @ninahachigian

Karen Lightman

, Executive Director, Carnegie Mellon University's Heinz College Metro21 Smart Cities Institute | @khlightman

===============================================
legend of supercities and sustainability world trade belt road mapping

Tuesday, November 13, 2018
0 replies

0 retweets

0 likes

I've treated patients in the ER who have died from gun shot wounds. How can anyone say this isn't a health issue?

250 replies

690 retweets

1,986 likes
New Yorkers reacted to the news that Amazon was coming to town with roughly the same amount of enthusiasm that Tory MPs showed for Theresa May's Brexit deal.
It's not a Brexit-level fiasco: The politicians who negotiated the deal, for instance, didn't immediately resign in order to protest the deal they negotiated, a la Brexit secretary Dominic Raab.
Still, politicians immediately realized that their constituents did not consider this a win. What looks like a lovely new source of income tax to City Hall (25,000 workers making an average of $150,000 apiece) looks more like a source of inequality and gentrification to the people currently living in Long Island City, many of whom were looking forward to that land becoming affordable housing.
The similarity between Brexit and Amazon HQ
is that voters are increasingly vocal in speaking out against systems that are seen to benefit the wealthy elite first and foremost.
Amazon vs. Google
: On Dan Primack's
Pro Rata podcast
, New York Deputy Mayor Alicia Glen said that the city drove a hard bargain with Amazon, forcing the company to open up its new campus to all New Yorkers, rather than closing it off for employees only.
The fact that Amazon was reluctant to make that concession is a stark contrast to Google, which has quietly bought up more than 6 million square feet of non-campus New York real estate — enough to support some 20,000 highly paid workers.
Amazon likes flashy buildings; Google, by contrast, for all the space it owns in New York, is largely invisible.
Google has neither requested nor received any kind of tax-break sweeteners from New York. That means it's getting roughly $3 billion less than Amazon. (Surviving bad press in Toronto, it turns out, is much easier.)
The bottom line
: Amazon has created a lot of ill will by setting city against city in a cruel and elaborate HQ2 game. That's not a great way to make friends in a world where mistrust of Big Tech is at record highs.
3. Facebook's executive trainwreck
Photo Illustration: Sarah Grillo/Axios
Facebook had even worse press than Amazon this week, thanks mainly to a devastating New York Times
article
on Wednesday.
The focus of the story
is the manner in which Facebook's top two executives — Mark Zuckerberg and Sheryl Sandberg — react to bad news. Rather than deal with it directly, they tend, in the words of the article's headline, to "delay, deny and deflect."
The conclusion

: "Bent on growth, the pair ignored warning signs and then sought to conceal them from public view."
Facebook also hired Definers
, an opposition-research specialist in Washington, in a move that ended up backfiring spectacularly. Zuckerberg now
denies
(
implausibly
) that either he or Sandberg had ever heard of Definers before the Times article appeared.
Facebook shares
closed at $139.53 on Friday, down 36% from their high of $218.62 in July, less than 4 months ago. That's a loss of $228 billion in market capitalization and a sign that the market has lost faith in Facebook's executive leadership.
Zuckerberg's attempt on Thursday to mollify the market and the press was predictably unsuccessful.
I made the case in April that Zuckerberg is no longer the right person to lead Facebook. His product and engineering skills are prodigious yet also irrelevant, and by Zuckerberg's own admission, neither he nor Sandberg are fully aware of what's going on internally.
Facebook's board
has neither the ability nor the inclination to fire Zuckerberg. But that doesn't mean he can't resign as CEO. At any point, he is free to hand the reins over to someone with a better intuitive understanding of why governments and users around the world are so upset at the company (hint: patent applications like
this one
don't help) and what needs to be done to fix the problem.
The bottom line
: Facebook has lurched from crisis to crisis, and it has managed none of those crises well. It's now clear who bears the blame for that.